If you're not adding meta descriptions to your website, you're missing out on a big chance to attract and convert new visitors. It may not seem like a big deal, but a targeted snippet that appears in search engine results can make a huge difference. Without one, you could be losing clicks.
Meta descriptions are the short snippets that appear on search results pages like Google and Bing. You can customize them to better describe each page, drawing in new users and making your search results stand out from competing websites.
Adding a meta description can be as easy as filling out a box or inserting a line of code.
Ready to receive more clicks? We'll show you how to add a meta description in WordPress with and without a plugin.
What is a Meta Description?
Search engines like Google use a robot called a web crawler to index your site. The info this gives them allows them to display it properly in search results, so you can be found when people search for relevant keywords.
But since this program is just, well, a program, it doesn't automatically know what your site is about. You have to tell it using different elements such as sitemaps, schema markup, and meta tags, just to name a few. That's why a meta description is so important.
Users see a page's meta description below the title in the search results. The meta description is meant to inform them about the content and purpose of a webpage so they can decide whether to click on it or not. In this example, you can also see sitelinks: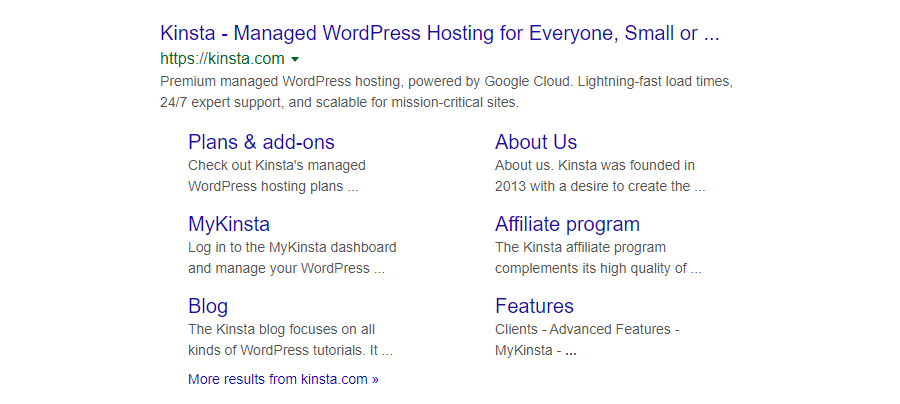 Google's crawlers are better than they once were. In fact, they can now extract a title and meta description automatically, and figure out a page's topic without you having to manually define keywords.
If you don't write your own meta description, Google will generate one for you by pulling content from the page. But you could be missing out on a chance to convince people to click on the link with a targeted snippet customized to earn conversions.
How Meta Descriptions Impact Your SEO
Meta descriptions actually don't have a direct effect on your SEO ranking, yet Google still advises to create unique ones for each page of your site. It's the keywords found naturally in your content that are important for SEO.
What meta descriptions do impact is click-through rate (CTR), or how many people decide to click on your site.
Think about the last time you Googled something. What made you pick a certain link? It was probably the title, the description, or both that convinced you.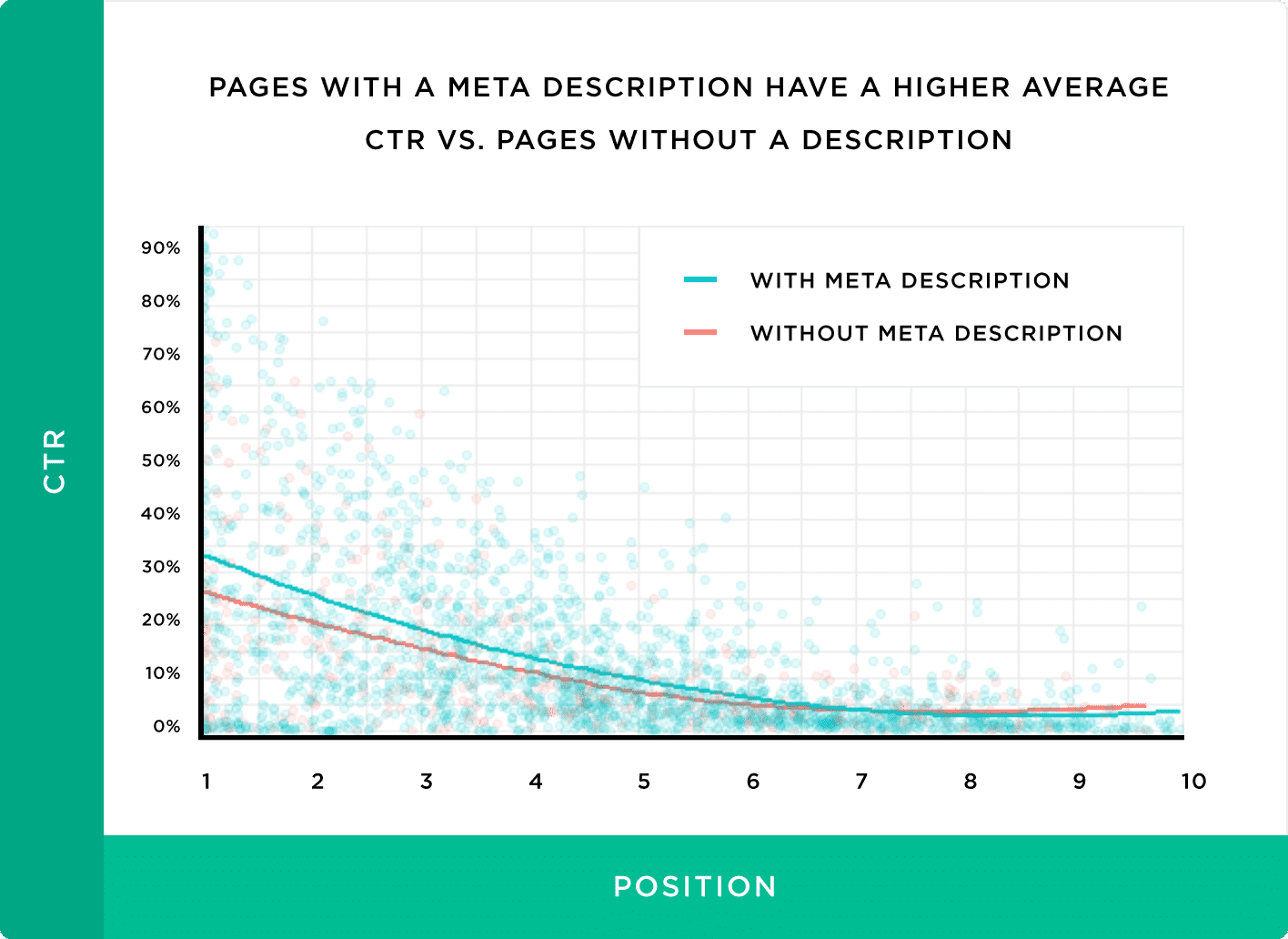 According to Backlinko, unique meta descriptions have a major impact on CTR:
"Writing unique meta descriptions for each page can increase your site's organic CTR. We found that pages with a meta description had a 5.8% higher CTR compared to pages without a description."
Search engines may automatically generate a snippet, but if that description doesn't do a good job conveying what your content is about, people will ignore it and choose another website.
Writing your own meta descriptions ensures that you have more control over what people see.
I said "more control", not "total control." Google won't always use your meta description, though.
Sometimes it will show parts of a page's content that's more relevant to a user's search. But in most cases, it prefers to fall back to the snippet you provided rather than using an auto-generated one.
A well-written meta description plays a big part in attracting and converting visitors. It may not directly affect SEO, but it will gain you more interested visitors, and higher CTR does give your rankings a boost.
Meta Description vs Meta Keyword
Metadata as a whole is a set of HTML tags that tell search engines and web crawlers what your site is about. These include the title, description, and keywords.
You already know that a meta description is the HTML element that describes a webpage's content and purpose.
Meta keywords are a relic of an older internet. In other words, they've been deprecated and are no longer in use. In the past, they were used to tell search engines what topics a page covered, similar to how you tag a social media or blog post.
However, once people realized that you could put any unrelated keyword in and receive free traffic from topics your site had nothing to do with (hello "free porn" and "free mp3"), search engines removed support for the feature. You can still add meta keywords, but for the most popular search engines, it won't do anything.
Now, Google examines a website's content using more sophisticated web crawlers that can automatically figure out what topics are related to the content you write about on a page. It completely ignores the meta keywords attribute.
Instead of using meta keywords, improving SEO is now about optimizing natural keyword usage within your content and address other technical aspects like the speed of your site.
5 Tip For Writing and Optimizing a Meta Description in WordPress
When it comes to meta descriptions, there are no hard and fast rules to follow. But there are still some best practices you should keep in mind. These can help you rise above the competition and increase your click-through rate.
Let's go over each of these best practices, so you can write better meta descriptions.
1. Ideal Snippet Length
You can't make your snippet an unlimited length. If you exceed a certain number of characters, it will be truncated. Your meta descriptions can be as short as you want but don't go over 155-160 characters, or it's likely to be cut off abruptly. That doesn't look good.

2. Focus on a Keyword
It's a good idea to include a meta keyword in every snippet you write. If you're creating a snippet for a blog post, you can target the same keyword you wrote the article with. Otherwise, do some keyword research and choose one that's aligned with your goals.
Including a keyword will help you structure your description in a compelling way. Plus, Google sometimes highlights keywords that match users' search terms. Targeting a popular keyword and including it in your description may result in bold, noticeable text.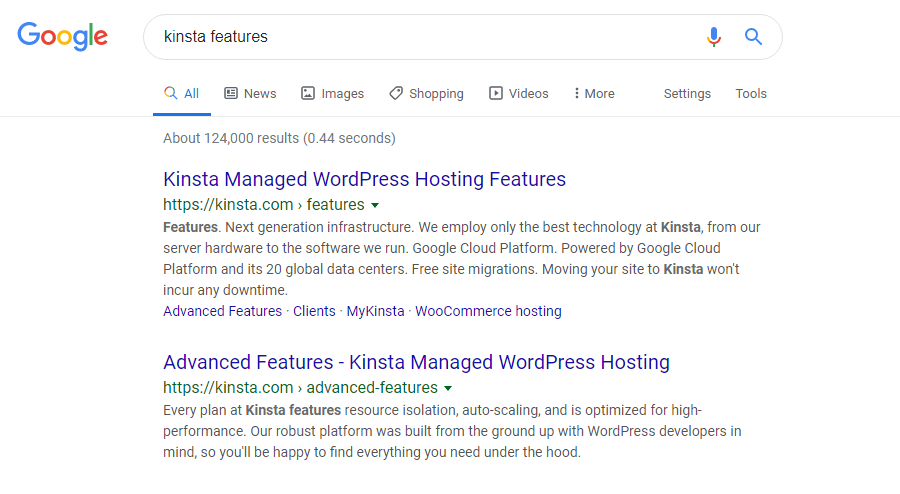 3. Write Clear, Cohesive, and Captivating Descriptions
Your meta description is like a free advertisement, so take it as a chance to convert potential visitors. Address the reader directly, pulling them in by posing a question or problem, then outlining the benefits of clicking your link. Use vivid imagery, eye-grabbing statements, or information-rich sentences.
Most importantly, earn your click by proving that your website has exactly what people are looking for. Do you have the best services or products, or the information they've been searching for? What do you have to offer that your competitors don't?
Ensure that your snippet is high-quality and free of awkward phrasing, repetition, or grammatical errors that could turn people away.
Consider including a call to action, like "save money", "read our review", or "learn more about meta tags". Avoid awkward-sounding CTAs like "click here", however. Many sites opt to skip the call to action and focus on providing valuable information; see what sounds right to you.

Lastly, make it clear what will happen when your link is clicked. Will they be reading a blog post, browsing the store, or landing on a features page? It should be obvious where they're going and what they'll find when they receive there.
4. Avoid Duplicate Snippets
Meta descriptions present a free chance to reach out to potential customers and convert them, so don't waste it by creating duplicate or carbon copy snippets, meta descriptions that are the same or nearly the same across multiple webpages.
When you have hundreds or thousands of pages on your site, it may seem like a good idea to just use a template and swap out a few details. But duplicate descriptions just don't look good, especially when they cover more than a handful of pages. People will quickly tune out your website's results.
A default meta description is better than a bad one. If you don't have the time to add a carefully written, compelling snippet to every single page, it's better to let Google do the work and focus on a few key pages.
5. Don't Be Deceptive
Meta descriptions may not improve your SEO, but they can certainly damage your click-through rate if you engage in deliberately deceptive behavior.
Ensure that your description is accurate. Just be honest about what people are clicking on first and foremost. Don't lie about what a page contains.
Avoid keyword stuffing. It's awkward to read and will result in reduced CTR, plus it might receive you penalized or result in Google ignoring your custom description entirely.
Keep these tips in mind and you'll create better meta descriptions.
Writing Meta Descriptions for Specific Pages
The techniques for crafting a meta description are similar at their core, but each type of page needs its own special touch. The way you write a snippet for a blog post, homepage, and product page varies quite a bit.
Here are some tips for writing a meta description for a few key types of pages.
Homepage Meta Descriptions
Homepage descriptions receive special treatment. This is the face of your website, so you have to make it count. Many websites write a short, one-sentence pitch, never even reaching the 160-character limit.

Your job here is to sell your brand. Hit hard with a short, snappy, well-written piece that explains concisely what you do and why they should choose you. This goes for similar pages just as your About and Mission Statement.
Blog Post Meta Descriptions
For primarily informational pages such as blog posts, you may not want your description to read like a blatant advertisement. Of course, you are making a pitch and can include a call to action, but focus on the information.
When people go looking for a solution to a problem, they don't want to be advertised to. They want answers. Tell people what they'll learn when they click this link, and prove that you know what you're talking about.

Category Pages Meta Descriptions
There are also category pages to consider. This is a hard one to write for. Most searches won't turn up a category archive, but you shouldn't miss out on an opportunity to create a compelling, converting snippet.
Your best bet is to entice people by giving them a hint of the type of posts they'll find in this category, and receive them in a reading mood.

For news-based websites and ecommerce stores, category pages play a key role as they can be crucial pages able to score higher rankings and more traffic if well optimized.
Product Page Meta Descriptions
Speaking of online stores… Product pages will pop up in the search results when people are looking to buy something and fast.
Instead of promoting your website, focus on the individual product. Use similar tactics: write something that quickly explains what this is and why they need it.
You might also include specifications such as price and other product info.

You should ideally be writing a unique meta description for every product. It might be tempting to just use a template and swap out the product name, but this generic approach won't do as well as a hand-written pitch.
How to Add a Meta Description with Yoast SEO
If you want to add custom meta descriptions to your site, your best bet is installing an SEO plugin. Any popular SEO plugin will make it easy for you to write snippets for all of your pages and blog posts.
While it's possible to add them manually, it means editing site files. On some setups, this might be impossible without FTP access, which complicates things even further. Plus, there's no easy way to add individual descriptions to each page without a plugin. All the simplest solutions only set a default snippet for the whole site.
For most people, it's best to just install a WordPress plugin instead of dealing with the headache.
You can use a simple and direct plugin like WP Meta SEO or a more fully-featured SEO suite. Some popular SEO plugins include Yoast SEO, All in One SEO Pack, and The SEO Framework. Since Yoast is the most widely used, we'll show you how to add a meta description with that one.
Let's install Yoast now. You can either visit its plugin repository page or log in to your WordPress backend and head over to Plugins > Add New. Search for Yoast and download it, or upload the zip file you installed earlier.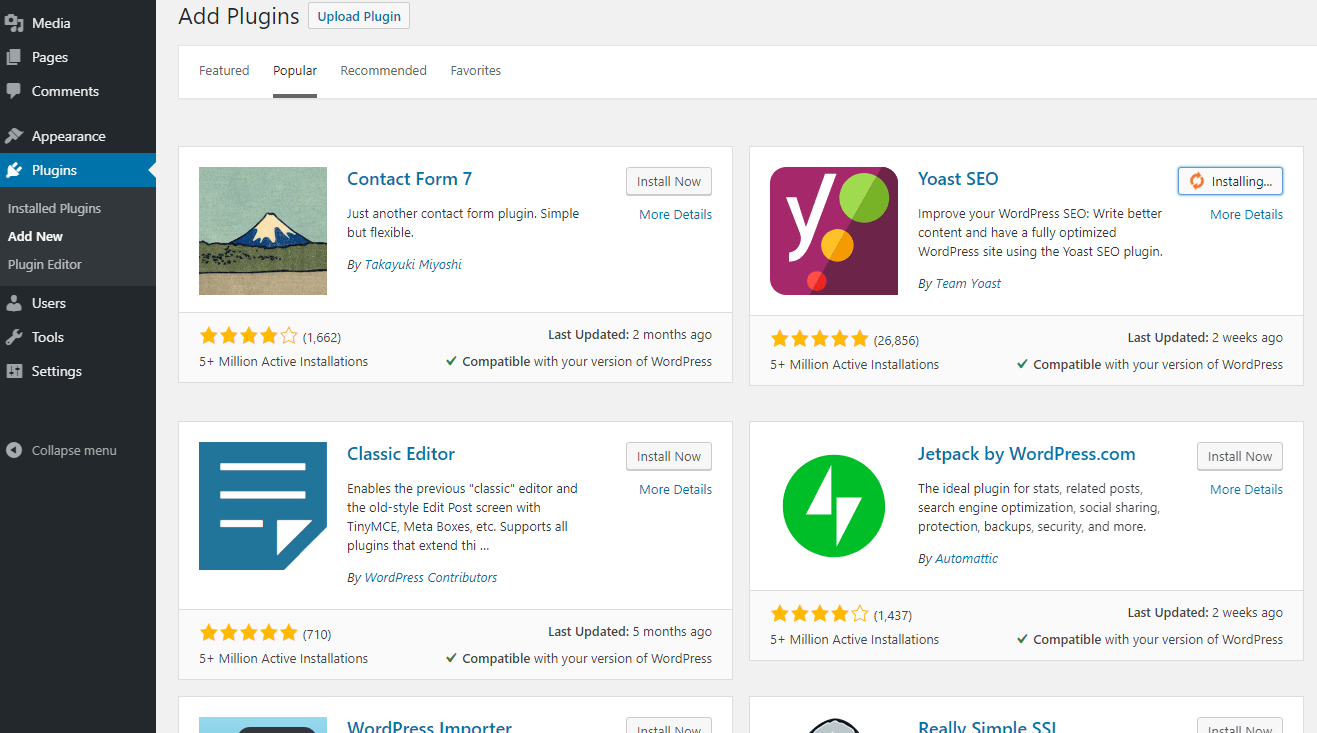 Then just activate the plugin in Plugins > Installed Plugins to receive it working.
Add a Meta Description to Posts and Pages with Yoast SEO
Yoast will add a new SEO tab to your admin backend. You can go here to configure settings, including defaults and how your pages look on social media. But to receive to the individual meta description editor, you'll need to open up an existing post or page or create a new one.
Scroll down below the editing area and you'll see the new Yoast section. Click Edit Snippet and start typing in the Meta Description section. The bar at the bottom will turn green once you've hit the optimal character length. You can also add dynamic variables that will display elements like title or category.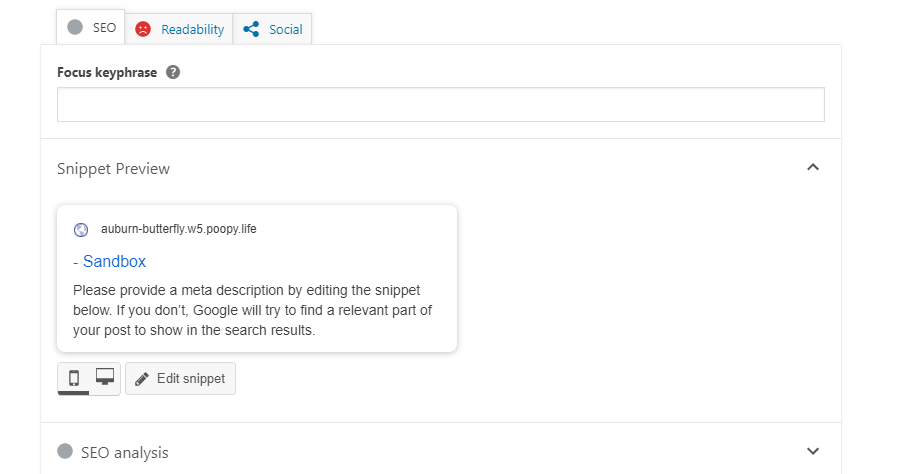 That's all you need to do to create a custom meta description for any post or page on your website.
Add a Meta Description to Your Homepage with Yoast SEO
Adding a snippet for your homepage works a little differently than normal in Yoast. Go to SEO > Search Appearance.
Right there you'll see the Homepage section, with the normal editor UI. Just write a description and title as you did before.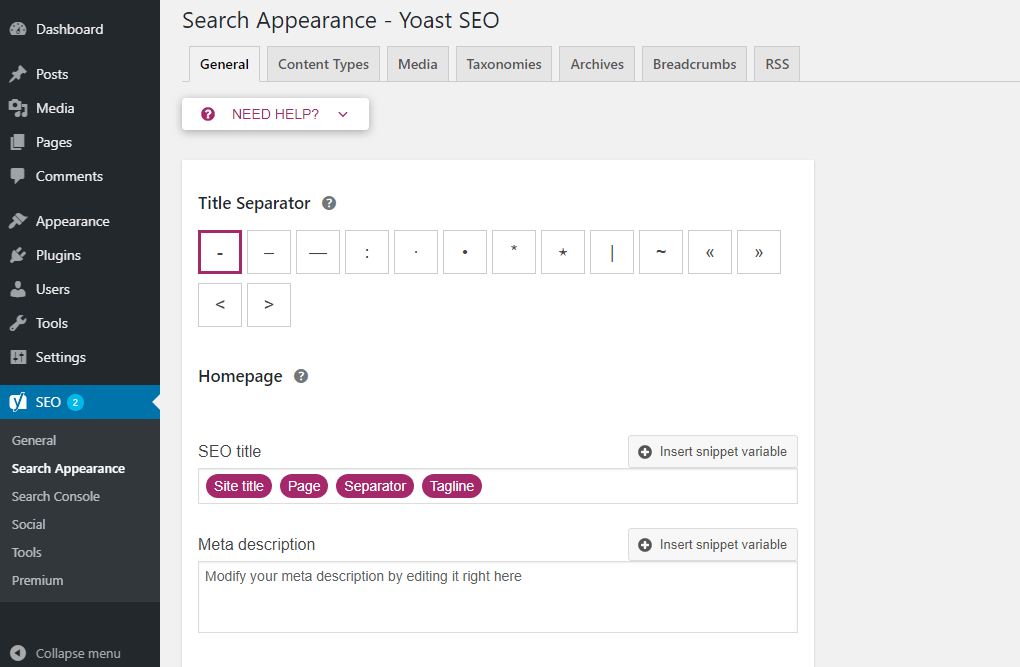 Remember that writing a homepage snippet is a sales pitch for your site as a whole. Describe your company or blog, what you do, and what you have to offer. When you're finished, click Save Changes.
With that, your homepage search results should soon update to show its new meta description.
Add a Default Meta Description with Yoast SEO
What if you want to add a default meta description that appears whenever you fail to set a custom one? That's easy. Under SEO > Search Appearance > Content Types (check the tabs at the top of the Search Appearance page), you'll see two drop-downs, one for posts and one for pages.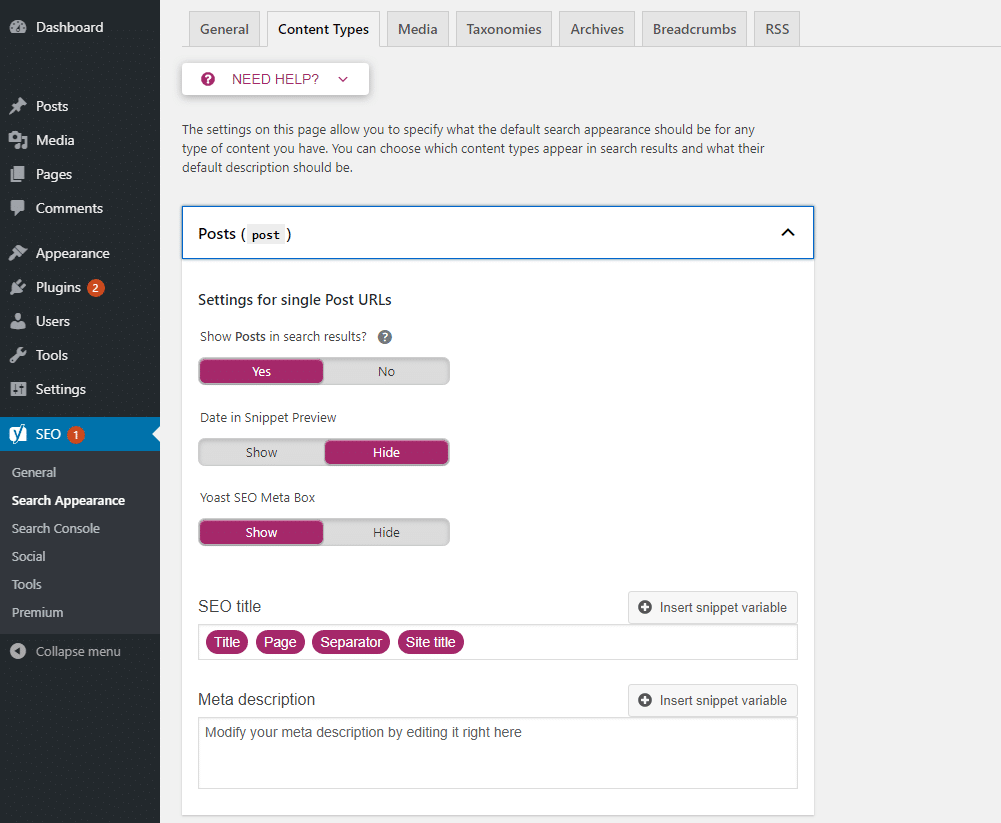 These also use the typical metadata editor, so go ahead and add a default snippet for posts and pages.
Now when you create a new post or page, the meta description will automatically use the info you put here. That way, if you publish a blog post and forget to add a snippet, it will just fall back to what you put here.
If you like basing them off a template, you could also paste it here, and it will appear on the editing screen ready to be filled out when you make a new post.
Add Meta Description for Category Archives with Yoast SEO
What about your category pages? These small archives don't have a lot of text content, which can confuse Google and cause it to display a broken or strange-looking snippet. You can add a short excerpt yourself to avoid this.
Go to SEO > Search Appearance > Taxonomies and create your description in the editor. Or you can go to Posts > Categories and write up a new one for each individual category archive page.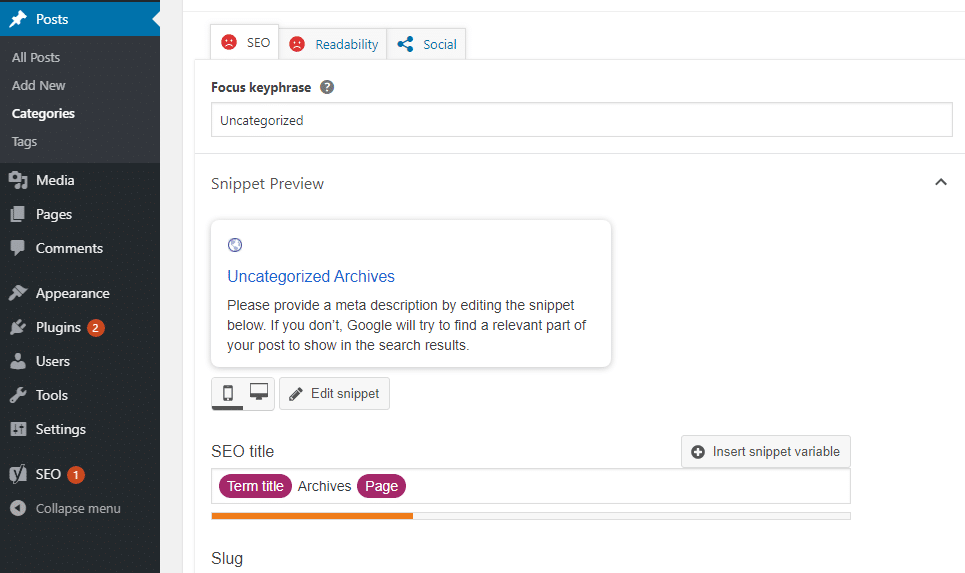 This snippet doesn't need to be too complicated. You can still make a small pitch like "Discover dozens of (category) posts here", but you don't need to be as stringent since it's unlikely that this page will pop up frequently in search results.
That wraps up everything you'll need to know about adding meta descriptions with Yoast.
How to Add a Meta Description Without a Plugin
If you don't want to install an SEO plugin to create custom meta descriptions, you can instead edit your theme files. However, it can be a bit of a pain, especially if you want to add descriptions to individual pages.
Downloading a plugin will probably be easier for you. But if you really don't want to, here's how to do it manually.
Before editing any files on your site, make sure to do a backup. It's also a good idea to create a child theme, as it protects your site if you make a mistake and doesn't reset your changes when WordPress updates.
We'll create some generic meta tags that will apply to every page on your site. First, you'll want to go to Settings > General. Under Tagline, write the meta description you want to represent your site.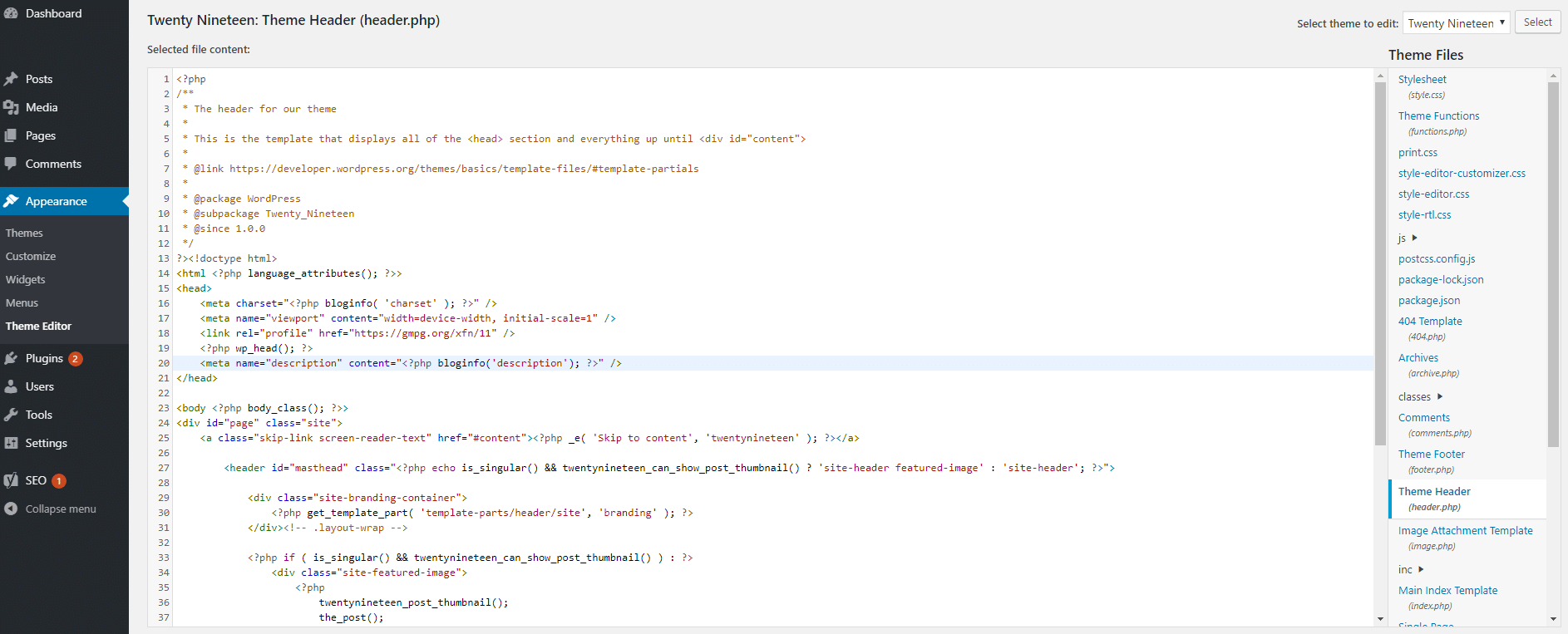 Next, go to Appearance > Theme Editor. If you can't see it, you may need to access your header.php using FTP.
Look in the sidebar and find Theme Header (header.php) and click to edit it. Paste in this code anywhere between
and .
This will add the tagline to every page on your site.
Obviously, this isn't very desirable for your blog posts. You're more likely to receive clicks if people know what each post is about, rather than getting a generic description.
Using this code, search engines will just grab content from the post to use in the meta description like normal.
With these two pieces of programming, you'll receive a tailored description on your generic pages like the homepage and category archives, but your posts will have a normal snippet.
What if you want to add individual descriptions for each page? This tends to receive a lot more complicated, and it's best to just use a plugin for that. But you can do it with a conditional tag or with custom fields.
Meta descriptions are powerful tools in your hands to increase your click-through rate. Learn how to add them to your #WordPress site and improve your conversions! ✍️?
Click to Tweet
Summary
Without targeted, precisely written meta descriptions, you could be missing out on clicks and conversions. Letting Google generate snippets is hit or miss. By writing your own, you receive an opportunity to "make a pitch" and ensure that users can make a fully informed decision.
As research shows, custom meta descriptions are able to increase your CTR up to 5.8%, which is a good outcome considering the little resources you might need to craft them out. In fact, to add a meta description in WordPress, you can either edit your WordPress files manually or use an SEO plugin to receive control over your snippets.
I know, custom meta descriptions may require more time than you anticipated, but it's an activity worth doing for the long-term results.